Quantitative Ashless Filters Paper
Quantitative Ashless Filters Paper
Minipore quantitative filters are designed for gravimetric analysis and the preparation of samples for instrumental analysis.
Grade : 40M
The classic general purpose ashless filter paper with medium
speed and retention. Typical applications include gravimetric
analysis for numerous components in cements, clays, iron and
steel products, as a primary filter for separating solid matter from aqueous extracts in general soil analysis.
Grade : 41M
The fastest ashless filter paper, recommended for analytical procedures involving coarse particles or gelatinous precipitates (e.g. iron or aluminum hydroxides). Also used in quantitative air pollution analysis as a paper tape for impregnation when determining gaseous compounds at high flow rates.
Grade : 42M
A world standard for critical gravimetric analysis with the finest particle retention. Typical analysis precipitates include barium
sulfate, metastannic acid and finely precipitated calcium carbonate.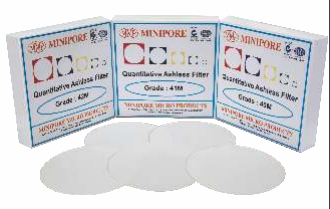 It covers slow, medium, fast filtration.
Typical analytical precipitate, Barium Sulphate & Colloidal Dispersion.
Cover range of 5.0 to 20 micron.
Ordering Information for Membrane Filter
Please Specify Particulars Say for